The right voice can make your content come to life in the perfect way for your needs, but choosing the right one can be hard. Here are some tips to pick the best voice for every project:
1. Decide the mood and tone of you want
Do you need a voice that's casual and trustworthy, approachable, or focused and authoritative? Picking a lane will help.
2. Use filters to narrow your search
You can filter your search by regional accents, voice characteristics, and performance styles. This will help you find the best voice avatar for your project.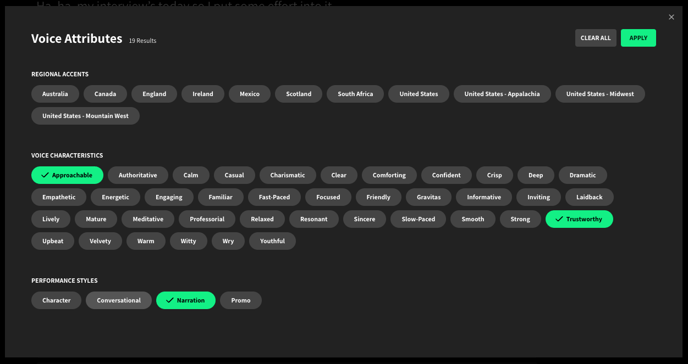 3. Sample your voice options
Listen to a few different voice avatars and choose your top options.
TIP: Try favoriting your top three choices by clicking on the vertical ellipses (⋮ icon) to the right of each voice avatar to refer back to quickly.
4. Test your favorite voices with part of your script
Give your top three choices an audition by copying in a portion of your script—an excerpt that reflects the tone you're aiming for—and create clips for each of your top voice avatars.
5. Select the best voice avatar for your project
When you find a voice you love, add it to your favorites.